Fullständigt namn: Kellan Christopher Lutz
Född: 15 mars 1985, Dickinson-North Dakota
Hobby: All sport ex.Tennis,badmington, skidor, simmning mm.
Övrigt: Han kände Ashley Greene och Jackson Rathbone innnan filminspelningen av Twilight.
Kellan historia:
Kellan har en syster och sex bröder, när han var 13-14 började han som modell.
När han gick ut High School flyttade han till California för att gå på Chapman University och sen började han skådespelaryrket.
Det var ju tur att han gjorde det, kolla in hans imponerande film/tv lista
Kellans Film/tv roller:
The bold and the Beautiful (Tv 2004)
Model Citizens (Tv 2004)
CSI : NY (Tv 2005)
Six Feet Under (Tv 2005)
Summerland (Tv 2005)
The Comeback (Tv 2005)
With Love (Musik Video 2006)
Stick It (2006)
Accepted (2006)
Ghost of Goldfiled (2007)
CSI: Crime Scene Investigation (Tv 2007)
Heroes (Tv 2007)
Deep Winter (2008)
Prom Night (2008)
Ggeneration Kill (Mini serie 2008)
90210 (Tv 2008)
Twilight (2008)
With You (Musik Video 2008)
Kommande:
Warrior (Under inspelning, 2009)
New Moon (2009)
CSI: Crime Scene Investigation (Tv 2009)
Som ni ser har han medverkat i många Tv-serier, men mest känd är han nog från Tv-serien 90210 där han spelar bråkstaken George Evans eller från Twilight där han spelar Emmett.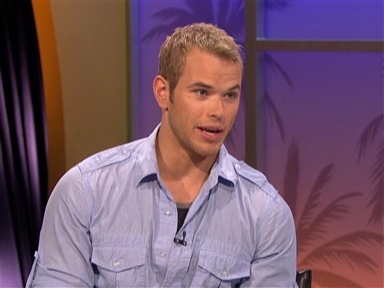 Kellan Lutz